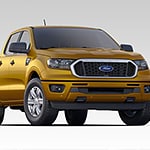 As a midsize model, the Ford Ranger provides extra dimensions for pickup truck buyers. Someone who needs to move more cargo through harsh environments may appreciate what the Ranger presents. Performance and durability aren't the only things that boost the Ranger's popularity. The looks capture attention. The design truly is impressive.
The "twin tower dome hood" proves nearly impossible to miss. The stylish look exudes power, and there's a functional component, too. The design helps with moving wind up and over the hood, which cuts down on annoying noise.
The wide grille opening also provides a nice visual design boost. As with the hood, a functional component complements its style. Namely, the wide grille supports an aerodynamic performance on the road. Why let the wind slow you down?
Find out why driving a Ford Ranger in DeSoto is a fantastic experience. Set up a time for a test drive at Mac Haik Ford right away.