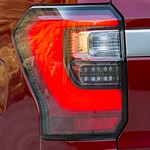 Ford Expedition trounces competition in the full-size SUV category, and with good reason. It's power, handling, efficiency, towing and in-cabin amenities are exceptional. Intelligent engineering and trend-forward tech allow Expedition to excel in the capability category. Here are two of Expedition's capability features that made our Mac Haik Ford team take note.
Roll Stability Control
Ford Expedition's Roll Stability Control enhances traction through brake and throttle control. The system also alerts you to a swaying trailer, initiating selective braking and engine power reduction to prevent trailer tipping. Trailer sway control via RSC also gives you an opportunity to safely decelerate, pull over and repack your trailer.
Limited-Slip Differential
Built to eat up city highways and off-road landscapes, Expedition always has wheels in powered rotation thanks to limited-slip differential. This complements highly sturdy skid plates and underbody fuel tank protection, a shield of sorts that allows Expedition to dominate any terrain like a master.
Take Ford Expedition for a fun spin at our DeSoto dealership today. See you soon.