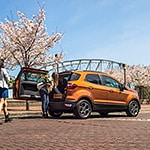 The 2021 Ford EcoSport comes with comfort and class. You will get a cabin that has been designed for convenience and fun. The Ford EcoSport has updated amenities like heated steering, among others. All these specifications will make your ride worth it.
Amenities of the Ford EcoSport
An Improved Comfort and Style
The Ford EcoSport's new appearance has a power driver's seat, unique seats, and heated-leather steering, and these specs improve its style.
Better Sound
The Ford EcoSport has the B&O music system that boasts over 80 years of audio legacy. The music system has a creative…
Read More